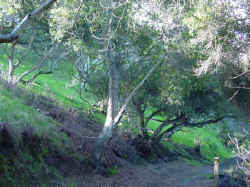 Sabercat Creek is located in an area that runs between Washington Blvd. and Pine Ave. Many homes surround this area making it a very peaceful urban escape. There are several entrances to the trail that runs the length of the creek. This is an area that YSC has periodically maintained during their summer program. Other volunteer efforts include classes from Las Positas cleaning and maintaining some trails along with identifying certain plants in the creek bed.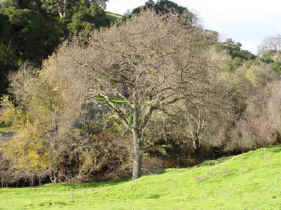 Valley Oak in Sabercat Creek
One of the more noticeable plants in the creek area include the Valley Oak. This deciduous tree has a large canopy and provides shade for the running creek during the months when it has leaves. This tree also provides a natural habitat for squirrels, birds, lizards, and the area also has some deer that inhabit the area. Cattle are in the portion near the freeway and use this area as grazing ground.
November 10, 2001 approximately 85 students helped plant valley oak acorns in direct seed shelters provided by the City of Fremont. Nelson Kirk helped supervise the event. For more information click here.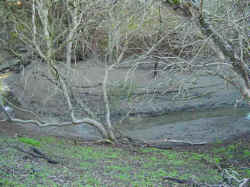 Currently more studies of this creek are needed. We would like to do monitoring on erosion, plants, wildlife, invertebrates and the general health of the creek. If you are interested please contact the Math/Science Nucleus at (510) 790-6284 or email msn@msnucleus.org