Until the 1960's the Mission Creek Watershed was used for agricultural and livestock businesses. The proximity to a water supply, fertile land, and warm climate made this an ideal place for early settlers. The Ohlone Indians used this area to live because of these very reasons. They even built a small dam near the Mission San Jose area. This dam was later enlarged by the missionaries, who added a mill to grind flour and corn.
Early pioneers in the wine and nursery business also used Mission Creek as the radiating point for their businesses. As long as the water flowed their businesses were successful. The earlier generation of creek users understood the importance of a clean and flowing creek. They were limited on the full understanding of the dynamics, but the early users respected this gift of life.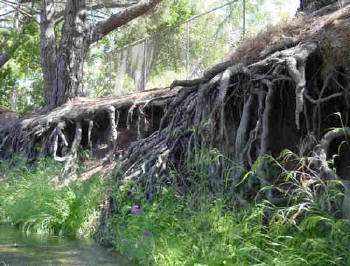 Undercutting of large trees along Mission Creek.
However, developers saw this area as a haven from city life and started to build homes. They brought with them asphalt and concrete as they constructed roads and the infrastructure to support humans in the area. When you have natural ground cover about 50% is saved in the ground water. However, the ground can absorb only about 15% when you develop a city's infrastructure. Impervious surfaces can cause up to 55% run off of water. Poor engineering of the surrounding buildings caused damage to the creek. Erosion caused by rapid water flow caused undercutting of the large trees that lined the bank. The creek's dynamics became unstable and flooding in certain stretches and fallen trees started to become a problem in the watershed in the 1990's.
When a creek needs to be "restored" there is an implied understanding that there has been damage done to that area. Restoration does not always mean that it will look like an area before human intervention, but that it will be engineered so humans and other organisms can coexist. Even without humans, nature is constantly evolving. In today's urban landscape it is difficult to remove all exotic or non-native vegetation. Seeds from local landscaped gardens will somehow find their way along a creek.
The restoration of Mission Creek is attempting to create a stable channel bed and bank system while creating a meandering pattern that prevents erosion. In order to accomplish restoration there are many different ways to engineer improvements.
Erosion on Mission Creek had been so intense that the Union Sanitary Sewage District's pipeline was dangerously close to the stream. In order to prevent breakage the sewage line was moved and enlarged.
The channel was terraced to allow water to meander more effectively and not to scour certain areas. This involved major earth movements and the use of bioengineering to reduce the velocity of the water in this area. Coir logs or cylindrical structures of coconut husk fibers were used as a protection of creek bends and slopes. Live red willow stakes, which are native to this area, are inserted in the coir logs. They grow by rooting directly from the stake and the roots will bind the banks to decrease erosion. Straw wattles or tubes of rice straw are used along steeper bank slopes for erosion and stormwater runoff control. The placement of rootwads (root structures of previous trees that were cut) helps stabilize stream banks from erosion. Rip-rap or large boulders are also placed in key areas to help direct water flow.
In areas were eucalyptus trees were removed; a flood plain terrace was created. Revegetation of the area will create bank stabilization as well as allowing habitat enhancement to increase wildlife in the area.
Only time will tell how successful the restoration will be, and a new chapter will have to be written.
BEFORE AND AFTER RESTORATION
Walking from Palm Ave there was a 10 foot water fall shown in the 2003 picture, which has now been filled. The water flow has been slowed, which decreases erosion.


Palm Ave Culvert, 2003


Palm Ave Culvert, 2004

About 60 Eucalyptus trees were removed in an incised portion of the creek. The area has been terraced and revegetated to slow down the water flow.


Mission Creek Drive, 2003


Mission Creek Drive, 2004

Old concrete structures where replaced with rip-rap and vegetation. The old Covington Bridge was replaced with a higher bridge to prevent damage during high flows.


Covington South, 2003


Covington South, 2004

Pools and riffles were created downstream from the Covington Bridge to increase habitat value and to slow water flow.


Covington North, 2003


Covington North, 2004

The stream was diverted away from the bank near Chadbourne Elementary School and the area was terraced to help decrease flow. Students can now access the area through their playground.


Chadbourne, 2003


Chadbourne, 2004

Near the Hopkins soccer field, the trail was moved about 20 feet toward the field. This allowed room to meander Mission Creek to reduce the erosion of the banks. The walnut and red willow trees are used to help keep the creek within its new channel.


Hopkins field, 2003


Hopkins field, 2004

The stream channel was moved and widened to prevent undercutting of the creek along the fence of nearby homes.


Hopkins, 2003


Hopkins, 2004