Mission Creek Watershed is the upper portion of the larger Laguna Creek Watershed located in Fremont. The entire Laguna Creek Watershed drains into the southeastern end of the San Francisco Bay at Mud Slough. Mission Creek flows from the hills and then meanders toward Lake Elizabeth, where it branches into Laguna Creek and Irvington Creek.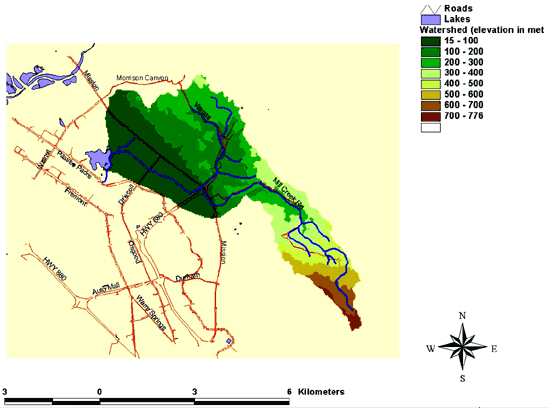 Mission Creek Watershed showing elevation and tributaries.
A spring is located on the north slope of Mount Allison (810 m), which is considered its headwaters. It flows north and northwest, parallel to the Mill Creek Fault. It flows adjacent to Mill Creek Rd toward Mission Blvd where it is dissected by the Mission Fault. It flows behind Mission San Jose High School, Chadbourne Elementary, and Hopkins Junior High on its way to Lake Elizabeth. At Lake Elizabeth it is diverted to the south and feeds into Laguna and Irvington Creeks, which flows into Mud Slough and then into San Francisco Bay. Mission Creek has a total stretch of approximately 12.8 km. There are 5 tributaries in the upper reaches, including Vargas Creek which flows into Mission Creek close to the intersection of Highway 680 and Mission Blvd.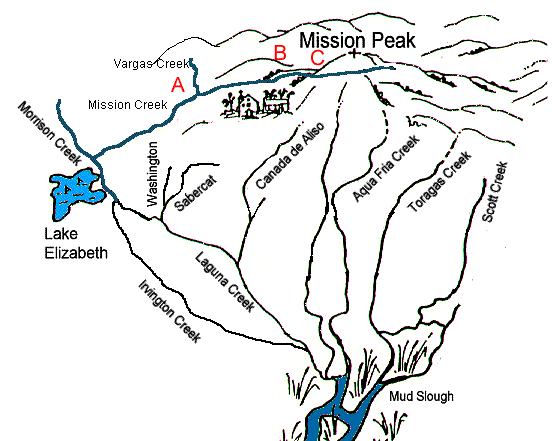 Mission Creek Watershed in blue, within the Laguna Creek Watershed that flows toward the San Francisco Bay.