Draw the number of electrons in the 1st, 2nd, and 3rd orbitals around the nucleus of sodium and chlorine.

Protons equal the Atomic Number. Neutrons are the Atomic Mass - Atomic Number. Remember the first orbital has 2 electrons maximum, the 2nd has 8 electrons, and the 3rd has 8 maximum.

How can the sodium and the chlorine "bond" to create a stable molecule of sodium chloride (halite)?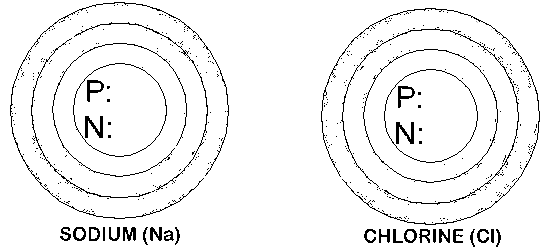 Name: Sodium
Symbol: Na
Atomic Number: 11
Atomic Mass: 23
Name: Chlorine
Symbol: Cl
Atomic Number: 17
Atomic Mass: 35