Teacher Responsibility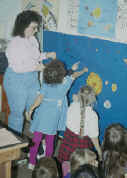 Teachers create a science atmosphere for children
This section looks at the different types of "teachers" that may be involved in teaching science to students. In some schools the classroom teacher is responsible for teaching science. Thee teachers are classroom teachers. However, a "science resource teacher" may be responsible for teaching all science. Librarians and computer teachers can also help coordinate a successful program.
CLASSROOM TEACHER
Complete lessons in appropriate time as determined by principal. If the entire program is adhered to, there are 34 weeks; 8 weeks for Applied Science, 4 Universe Cycle, 4 Plate Tectonics, 6 weeks Rock Cycle, 4 weeks Water Cycle. 8 weeks Life Cycle.

Record in lesson plans the science lesson by writing the "code" from the I.Science MaTe curriculum. For example ROCK CYCLE - CHEMISTRY (2) PRE. Principal will use as assessment tool.

Participate in staff training. Communicate your needs to the principal or teacher resource.

Follow scheduled time for materials and science lab use. Present 3 science lessons (150 minutes) at scheduled time over 3 consecutive days.

Return materials to designated place, within the time allotted. Other teachers will be using material so coordination is critical.

If materials are broken, please report items to appointed resource teacher or coach so items can be reordered.

If teachers have preferred activities for pre or post labs they can easily substitute, or schedule additional labs. They should share ideas with other teachers.

Act as a team. Science is a multifaceted subject that includes art, history, and language. Working together will make teaching a difficult subject much easier. Record any changes in your appropriate book. Teacher can make a copy of manual for personal use, but must leave books at school.

Contribute science information into resource library organized by resource teacher or coach.

Test children after each cycle on not only subject matter but different strategies of interpreting data. Can evaluate by using student manuals.

Give 4th through 6th grade students pre and post evaluations only after first year.

Try to coordinate parent volunteers with help of resource teacher or coach.
SCIENCE RESOURCE TEACHER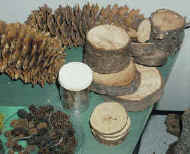 Display of different tree parts
The resource teacher in most schools, is responsible to teach a "hands-on experience" for students. However, the classroom teacher would still be responsible to do a pre or post labs. The resources teacher could be responsible for the following:
Communicate needs of individual school to the Nucleus staff, either by phone or writing.

Communicate new information, scheduling to school teachers, principals, industry and parent groups. This may be accomplished through a newsletter.

Help classroom teachers with peer coaching, using the format of the I. Science MaTe program.

Help teachers set up classroom or science room if one is available.

Assist in producing displays, concentrating on those displays that are needed first. Principal should supply materials or money to purchase supplies.

Coordinate parent involvement, including parent parties.

Assist teachers in pre and post materials.

Coordinate making manuals for students.

Be familiar with the I. Science MaTe curriculum, either by taking course offered by Math/Science Nucleus staff or through tutoring of Nucleus representative.

Help teachers develop tests that reflect what is taught at the particular grade level.

Help customize the curriculum with help from Nucleus staff.

Requisition replacements for broken materials from principal.

Design student manual cover specific for your school.

Work with principal and district administration to publicize events that may be on interest to media.
LIBRARIAN
Arrange library resources according to themes and subthemes (if library doesn't follow library of congress system.)
If there is a science corner, books can be arranged to coincide with cycle currently being taught by teachers. For instance, if Plate Tectonics is the cycle teachers are on, the Librarian may want to pull out the earthquake and volcano books for students to look at.
When ordering new books and a new science book comes out, the Librarian can look at the Scope and Sequence and readily tell for which cycle the book would be appropriate. The librarian may want to inform the grade level teacher for whom the book would be most appropriate.
CUSTOMIZE SCIENCE PROGRAM TO THE NEEDS OF A PARTICULAR SCHOOLS.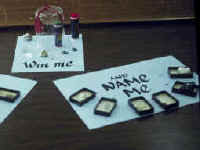 You can motivate students with prizes
There are many good activities and lessons that a teacher might find throughout their career. Most science related activities can fit into the structure of the I. Science MaTe program. Substitution of any lesson is easy within the structure of the program.
Deciding where an activity fits may be difficult at first, but once a teacher gets a feel for the structure of the curriculum it is easy.
The" scope and sequence" is important for deciding where a particular lesson belongs. When evaluating whether a lesson is appropriate the teacher should mentally think of the following steps.
Is the activity related to the Applied Sciences, Universe, Plate, Rock, Water or Life Cycles?
Depending on which theme you select, you then look at the scope and sequence and find the thread to which it belongs? For instance, a new toy is out on the market that uses the principle of magnetism. You would go to Applied Sciences -Physics or Technology thread.
Define the grade level at which it may fit. For instance magnetism can be shown in the lower grades as a force, and in the upper grades as a content activity.
Do you want to use the lesson as a pre, lab, or post activity? If you want to substitute the Lab, will the main objectives still be taught to the children? If the answer is NO, then you might want to consider just adding it as a part of the lab. It is critical to realize that these objectives are to help a child grow into the subject. Also, you must consider for the lab if there is enough materials for a Hands-on lab. If not, you might want to consider changing it to a Pre or a Post.
Consult all grade specific teachers of the changes.