Partners in Science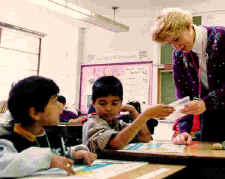 Partners in Science, East Palo Alto, Calif
There are many different types of partnerships a school can develop with their communities. A school administrator must look at a community's industries to decide how they can help with science. The Integrating Science, Math an Technology Program lends itself successfully using partners. The structure of the program allows scientists, engineers, or mathematicians a way to see in advance how they can help. Parent groups can help make the needed materials that are outlined in the curriculum.
The Math/Science Nucleus looked at many programs that use industry and government scientists, engineers, and mathematics to improve science and math in schools. We were looking for a model that uses professionals into the school's curriculum while helping teachers improve science and math instruction. MSN developed a program that would allow professionals to become a role model, while also providing models for teaching hands-on science. The program that they would use, would reflect all sciences and not just their specialty.
The Math/Science Nucleus with the help of many Silicon Valley (San Francisco Bay Area) companies created a workable model for other schools to follow. Math/Science Nucleus and Hewlett Packard joined forces in the early 1990's to mobilize local companies to allow their professionals to work with a local school district. Our "volunteer" core of scientists and engineers grew to over 100 professionals from Advanced Micro Devices, Altera, Chevron, Gupta Technologies, Hewlett-Packard, IBM, Trimble, Sun Microsystems, Syntex/Roche, U.S. Geological Survey, and Xerox Palo Alto Research Center.
The program, Partners in Science, allows the professional to visit classrooms once a week for a full school year to work with teachers and students. We train the professionals on how to work with elementary age students and to understand how children are learning other subjects. We have documented this training in a manual that can help other companies develop similar projects.
The key to the success of your experience hinges on the relationship between the scientist (or other volunteer) and the teacher. Though it will not happen overnight, the following guidelines can help foster this relationship.
The teacher will:
share teacher manuals with the scientist
retain complete control of the classroom at all times
initiate contact with the scientist and establish a regular time and day for their visits
at the initial meeting with the scientist, share teaching/classroom control techniques
obtain advance approval from the principal or science mentor for purchasing supplemental materials
lead pre- and post- discussions
co-lead labs with scientists
inform scientist when a lab is canceled or postponed due to illness, holidays, etc.
ensure all materials required for labs are in the classroom before the scientist arrives
call the scientist/engineer at least two days prior to the lab to plan the lab
The scientist will:
co-lead labs with teacher
give advance warning when s/he cannot attend a scheduled class or meeting
be available for phone consultation
The principal will:
facilitate communication between other teachers/scientists by holding regular meetings to share problems/best practices if needed
resolve any problems related to the "Partners in Science" program that arise on his/her site
appoint a science mentor if a science resource teacher does not exist
Science mentor/science resource teacher will:
ensure that kits and supplemental materials are readily available to all teachers
resolve problems related to kit or material availability
ADVISE TO SCIENTIST OR SPEAKERS
Share yourself. Do share both personal and professional aspects of your life with the kids. Help the kids understand what you do at work, what's interesting or unique about your job, and how your got involved in your career. Show how your work affects their lives and how it will make their lives better or different. How does your work relate to what they are learning in science?
Stimulate thinking by asking open-ended questions. Ask questions that ask students to make a prediction, give an explanation, state an opinion or draw a conclusion. Give students time to think before anyone gives an answer.
Use language the students will understand. Be conscious of vocabulary. Try to use simple words and define words students may not know. For example, don't say, "I design ICs." Rather ask students if they know what chips or Integrated Circuits are, how they are made and what they do.
Ask for an evaluation of your efforts. Ask the students what they liked or didn't like about your visit. After class, ask the teacher to critique your presentation and help improve your in-class skills.
Though it may be challenging at times for groups of children to share materials, the experience encourages cooperation and cooperative learning among the children. Children who habitually refuse to cooperate or break materials should be removed from the classroom.
Talk to your teacher about his/her techniques for classroom management and how they reward and discipline. One teacher may put his fingers to his lips in a "Shhhh!" fashion and raise a hand and have the rest of the children follow suit to regain control of the classroom after a noisy lab activity.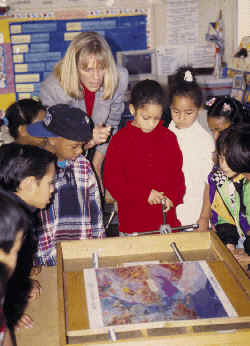 Students are working with a geophysicist
Below are some techniques that serve as a starting point for a discussion with your teacher about teaching techniques/philosophies:
Smile and feel comfortable telling amusing anecdotes
Use student volunteers to help
Require that students raise their hands to participate
Call on many different members of the class
Give specific directions when distributing materials
Use prearranged signals to get students' attention during activities
Stop and wait for students to let you continue speaking if they get noisy
Praise attentive or helpful behavior
Wait to give handouts/materials until it is time to read or use them because they can be distracting to the students