Review the key characteristics of minerals. Discuss with students how to determine each key characteristic. They should be able to test for hardness, streak, specific gravity, and luster. Magnetism and reaction to acid can be tested as well, if the proper materials are available.

Hardness is determined by scratching the mineral with a steel nail, a penny, and a fingernail. If a steel nail cannot scratch the mineral, it is 6 or higher on the Moh's Hardness Scale. If your fingernail cannot scratch it, it is more than 2, and if the penny cannot scratch it is more than 3.5 on the Mohs' scale. Students will thus be able to roughly estimate hardness; this is exactly what geologists do when conducting field research.

Streak is determined by scratching the mineral on the porcelain plate. Most streaks are white and not very useful for identification. However, most metallic minerals have colored streaks, which are often a diagnostic characteristic.

Students will be able to distinguish the specific gravity of a mineral as its being "heavy" (high specific gravity) or "light" (low specific gravity). In general, metallic elements will seem heavy.

Here are some suggested answers: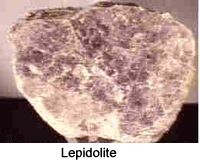 - Al2SiO5, hardness 5-7 (depending whether you scratch lengthwise); used in spark plugs and porcelains

FLUORITE - CaF2, hardness 4, specific gravity 3.18; flux for making steel, used in the glass industry, and as a source of fluorine for hydrofluoric acid

QUARTZ - SiO2, hardness 7, specific gravity 2.65; used in clocks, glass, computers, abrasives, optical and scientific apparatus

PYRITE - FeS2 (fold's gold); hardness 6-6.5; source of sulfur

GALENA - PbS (ore of lead); streak - lead gray; specific gravity 7.4 - 7.6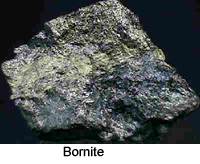 BORNITE - Cu5FeS4, ore of copper; hardness 3; "peacock ore," bronze color, purple tarnish, specific gravity around 5
HEMATITE - Fe2O3, hardness 5.5-6.5 (used for red coloring in some make-up)
COPPER - Cu (used for tubing, etc.); hardness 2.5-3
ULEXITE - NaCaB5O9 8H2O; hardness 2.5; crystallizes in arid region; a source of borax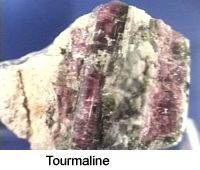 TOURMALINE IN LEPIDOLITE - Lepidolite K2Li3Al3 (AlSi3O10), hardness 2.5-4; color lilac, flat cleavage, in small plates; source of lithium, used in heat resistant glass
TOURMALINE - complex silicate of boron and aluminum; hardness 7-7.5, crystals usually prismatic, semiprecious gem stone, pink tourmaline is known as rubellite; strong piezoelectric property is used in the manufacture of pressure gauges.