Some igneous rocks are composed of small minerals that are only visible with a hand lens or microscope. This texture is referred to as aphanitic (fine grained) texture. These rocks, like basalt (dark in color) or rhyolite (pink in color), cooled quicker. Basalt or rhyolite are examples of lava that cooled within weeks to months.

Many volcanic lava flows are charged with gas that gets trapped as the rocks are cooling. They create a rock that has a vesicular texture, which is a rock that has visible holes.

Sometimes magma starts crystalizing minerals and then they cooled quickly. The matrix (the background material) can be aphanitic, but the minerals are visible. Olivine starts to crystallize from a melt first, then as cooling increasing the other minerals produce an aphanitic matrix.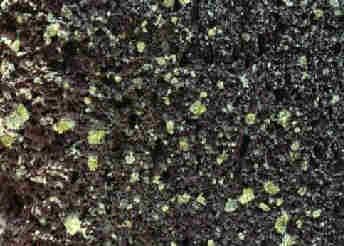 Olivine in basalt.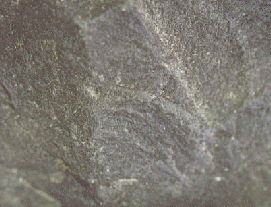 Aphanitic texture in a basalt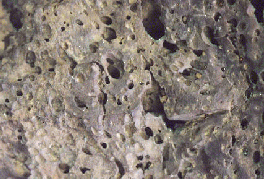 Vesicular texture in basalt.