EARTHQUAKE LEGENDS AND SCIENCE
Throughout the ages, the fear of earthquakes has been justified. Words like "destructive" and "catastrophic" are always used to describe the energy released by an earthquake. However the Earth, with all its beautiful mountains and valleys, depends on these processes to create the landforms that we see. Earthquakes are a natural way for the upper portion of the Earth to release energy due to stress caused by movement internally and externally.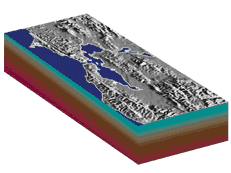 A geologist can look at the features of the Earth and determine how they were formed. For example, in the San Francisco Bay area you have a series of parallel mountains and valleys. This is a good sign that these represent faults that have occurred through time. However, when you donít understand what causes these features, your mind can go wild! Myths and legends are born.