I. Science MaTe Elementary
Authors of K-6 Curriculum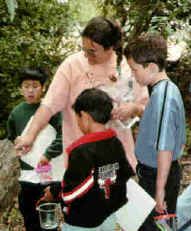 As a geologist, Dr. Joyce Blueford has distinguished herself in the field of radiolarian micropaleontology and sedimentology in California, Alaska, the Russian Far East, and Siberian Platform. She had written over 30 papers, including editing 8 scientific books.
As an educator, she has designed numerous classes in geology and science education. She has written 6 volumes of curriculum, which are used around the world. She started a non-profit, Math/Science Nucleus which is devoted to increasing science to children throughout the world. She has been the lead researcher on several projects including the integration of pen computers into schools and the use of internet technology to create a new medium of electronic textbooks.
She currently is working on establishing the Integrating Science, Math, and Technology Program in the African country of Eritrea.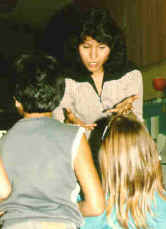 Angela Montez was the first Executive Director of the Math/Science Nucleus and through her dynamic leadership molded the organization and the development of the curriculum. She was in charge of the pilot schools and worked with the teachers on a day to day basis. She worked with volunteers to develop and test lesson plans.

Angela has a B.S. and M.S. in Environmental Sciences from California State University at Hayward. She also in recent years has obtained a teachers credential and is currently a high school teacher in Vallejo.


Jo Marshal obtained a B.S. in Biochemistry from Oklahoma State University and an M.S. in Pharmacognosy from the Univeristy of Minnesota. As a parent, she volunteered to work with the Math/Science Nucleus to help create lesson plans for students at Blacow Elementary School in Fremont, California. Her insight on making experiments work and documenting how they worked with students helped to put the lessons all together. She volunteered for over 5 years as the curriculum was first taking shape.

Dr. James Gonzales, now a medical doctor, became involved with the Math/Science Nucleus as a college student. His degree in Biochemistry from San Jose State University helped him to refine units in the Life Cycle. When he worked at the Math/Science Nucleus he coordinated Partners in Science, where he trained other scientists to work with young students. This helped to refine and add to many of the units.
Debbie Davidson earned a degree in Wildlife Biology from University of Virginia. She worked as a Firefighter before entering the world of science teacher. She joined the Math/Science Nucleus team in the 1980's as she piloted and help write lesson plans in the San Francisco Bay area. When she moved to North Carolina she coordinated the implementation of the I. Science MaTe program in many rural schools. She continued doing teacher workshops and programs at Discovery Place and SciWorks in North Carolina.

Authors of Storybooks

Michael Doherty is a railroad police officer with a Master of Arts degree in Criminal Justice. He is a free lance writer with varied publishing experience. He assisted in the production of Lucy Lava and Dr. Drippy.

Artists

Rita Anselmo-Rays is an accomplished artist in the San Francisco Bay area since the early 70's. Rita has a talent in multi-media work from watercolors, oils, acrylic and fabric painting and has been an instructor for over twenty years. Her work has been seen in local galleries and gift shows. She has published a cross stitch book, " Rita's Summer Kids," in 1982 and is currently working on children's books.
Rita's work has a delightful sense of humor and no matter how serious the subject, a slight bit of whimsy shows up in her work. Rita, being confined to a wheelchair for over 46 years has not hindered her. As a matter of fact, she uses her disability to help educate children that its not the disability but the ability that counts.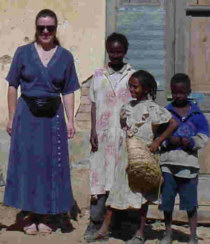 Doris Raia is a former railroad police officer whose responsibilities included the maintenance of the department computer system. After leaving the police, she honed her skills at the Chubb Institute and earned her MCSE for NT. Having a love of art from an early age, she has managed to blend her skills creating animations with Flash 5, action script, and other Macromedia products.
She is currently working with Hagos Tewolde to produce children's books to be used with the curriculum. Doris also maintains the Math/Science Nucleus website, and updates all the curriculum changes. The picture on the left shows Doris to the left with school children in Eritrea.
Hagos Tewolde graduated from University of Asmara with a BS Degree in Mathematics. He has been drawing since he was 10. In high school he joined the art club at the Asmara comprehensive Secondary School and was trained by Artist Gebrelul Bebremariam for about four years. After Eritrean liberation, he was selected by the Ministry of Education to attended painting courses given by Chinese artists. He paints and draws in his spare time. He is also a computer enthusiast.