150th Anniversary of the Great Quake of 1868

PLEASE DONATE TO KEEP EARTHQUAKE FEATURES IN FREMONT
Master of Ceramonies Suzanne Wolf, City of Fremont
(left to right) Dr. Tom Brocher, Assemblyman Kansen Chu, Dr. Joyce Blueford, State Senator Bob Wichowski, Fremont Mayonr Lily Mei, and State Senator Ricardo Lar
o


Making a San Francisco Bay area fault map
Dr. Karen Anderson leading a field trip to the different "creep" features around the park. Over 250 people went on free tours.
Scouts helping in the kids zone.
Preparedness booths had information from insurance to retrofitting.
see who helped fund this event

Where is the Earthquake Walk now available to the public:
Central Park (Lake Elizabeth), 450 acre park in the heart of Fremont (several locations, see map)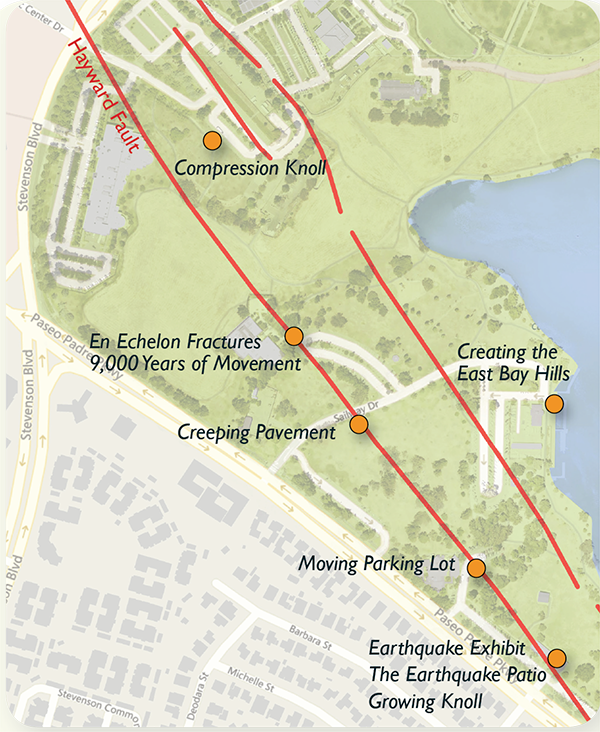 This one day event was to educate the public on the earthquake science, history, and preparedness. The emphasis was on the Hayward Fault, but there was general information on earthquakes; other faults in the San Fransico Bay Area; and plate tectonics.
Volunteer scientists and docents provided 8 tours during the day, with over 250 people participating. Thanks to Dr. Karen Anderson, Dr. Angeline Cartena, Bruce Rogers, and Coyn Criley who walked visitors to the different stations.
There were 3 areas where people could get more information:

Kids Earthquake Zone: The Fremont Community Center, 40204 Paseo Padre Parkway
Families learn through hands-on experiments how earthquake travel through the crust of the Earth and cause problems. They learned the basic principles of Plate Tectonics and Engineering. Children were able to build houses of blocks and then see them tumble down; play earthquake games; color informative pages on temblors; see a San Francisco Bay Area fault map; see a simulated quake in action; and much more.
Earthquake Science Zones: There will be two sites that people could ask scientists and educators about the science behind the Hayward Fault.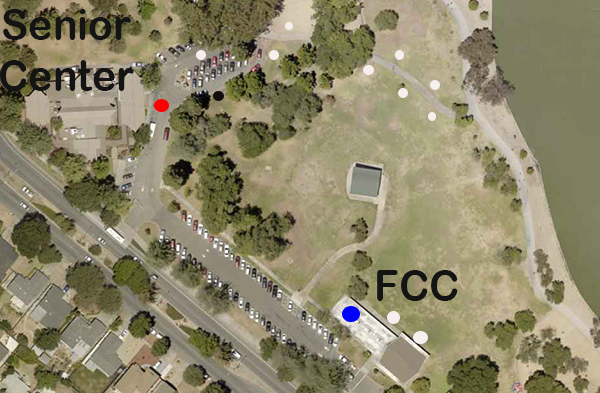 Fremont Earthquake Exhibit. Luke Blair and Susan Garcia (both from the U.S. Geological Survey showcased the "Faulted Floor" where 60 years of "creep" along the Hayward Fault can be seen.
Senior Center Area (Moving Parking Lot) - Cynthia Pridmore and Timothy Dawson from the California Geological Survey illustrated how liquifaction occurs. They helped people look at the en enchelon faults and how the creep has caused offsets in Central Park.
Northern California Geological Society with members Paul Henshaw,
Mark Petrosky, and several others displayed the rocks of the area. Children and adults got to ask local geologist questions about our geology.
Earthquake Preparedness Zone: At the Senior Center Parking Lot (Moving Parking Lot) to Lake Elizabeth there were different organizations to provide information on not only how to prepare, but also about insurance and how that all works. Search and Resue Dogs was a popular site, as visitors learned the importance of these trained dogs. Fremont Firefigher Association brought their trucks and gave out 1500 hot dogs. California Earthquake Authority brought their virtual booth, while Earthquake Country Alliance brought in the "Big Shake" so people can experience a big quake.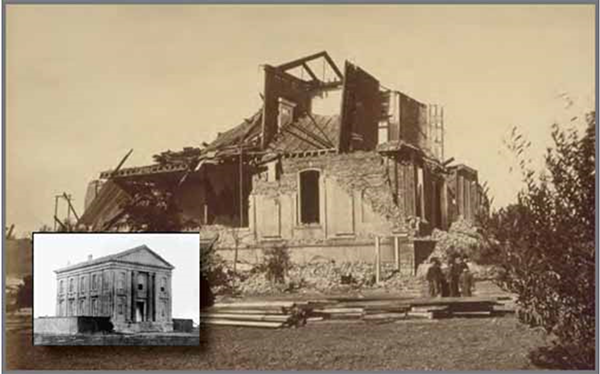 The U.S. Geological Survey called our own Hayward Fault the most likely to be the source of the Bay Area's next big quake with a one-in-three chance of a magnitude 6.7 rupture in the next 30 years. The admonition "Be Prepared" has never been so important.


(left - San Leandro City Hall devastated in 1868)
ORGANIZERS
| | |
| --- | --- |
| | MATH SCIENCE NUCLEUS since 1982 has served the education and public by offering quality science and math lessons that take our children learn critical thinking skills. We manage the Children's Natural History Museum and Tule Ponds at Tyson Lagoon Wetland Center. http://msnucleus.org. |
| | CITY OF FREMONT is located in the southeast San Francisco Bay area and straddling both the East Bay and South Bay regions. It has a population of close to 1/4 million people and one of the largest city by land in San Francisco Bay area. |
| | U.S. GEOLOGICAL SURVEY is a government agency that Federal source for science about the Earth, its natural and living resources, natural hazards, and the environment. They provide the posters and map for the Faulted Floor Exhibit. http://usgs.gov |
| | CALIFORNIA GEOLOGICAL SURVEY was established in 1860, and one of the oldest geological surveys in the United States, serving as a primary source of geologic information for California's government agencies, businesses, and public. |
Math/Science Nucleus
4074 Eggers Drive, Fremont, California, U.S.A., 94536
(510) 790-6284
msn@msnucleus.org


[Hayward Fault Home]