INDUSTRY
The Math/Science Nucleus (MSN) was founded to assist educators and administrators in getting "cutting edge" science into schools. MSN is a non-profit, tax-exempt organization composed of scientists, educators and community members that work together with schools. Since 1982, MSN has worked with schools and industry in developing partnerships that benefit children directly.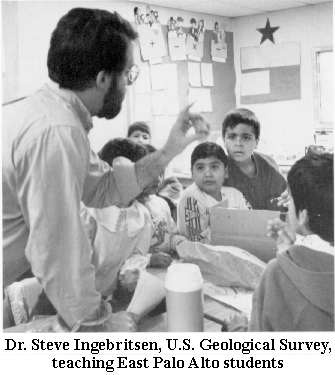 The Math/Science Nucleus looked at many programs that use industry and government scientists, engineers, and mathematics to improve science and math in schools. We were looking for a model that uses professionals into the school's curriculum while helping teachers improve science and math instruction. MSN developed a program that would allow professionals to become a role model, while also providing models for teaching hands-on science. The program that they would use, would reflect all sciences and not just their specialty.
The Math/Science Nucleus with the help of many Silicon Valley (San Francisco Bay Area) companies created a workable model for other schools to follow. Math/Science Nucleus and Hewlett Packard joined forces in the early 1990's to mobilize local companies to allow their professionals to work with a local school district. Our "volunteer" core of scientists and engineers grew to over 100 professionals from Advanced Micro Devices, Altera, Chevron, Gupta Technologies, Hewlett-Packard, IBM, Trimble, Sun Microsystems, Syntex/Roche, U.S. Geological Survey, and Xerox Palo Alto Research Center.
The program, Partners in Science, allows the professional to visit classrooms once a week for a full school year to work with teachers and students. We train the professionals on how to work with elementary age students and to understand how children are learning other subjects. We have documented this training in a manual that can help other companies develop similar projects.
This program has provided positive life-long experiences for the children of the schools impacted and also the professionals that have participated.
By sponsoring one or more of our different projects, industry can provide financial and educational support to those students and teachers who would like the opportunity to expand and increase their knowledge in math, science, and technology. The "basics" of reading, writing, and arithmetic are no longer enough. Integrating science with other subjects prepares our children for their future. Your support can make the difference.

IF YOU WOULD LIKE TO BE A PARTNER IN YOUR LOCAL SCHOOLS
I. FINANCIALLY
$1000.00 provides class set of science materials of your choice to a class of your choice anywhere in the country. You can choose grade level and subject (Curriculum) for K-8. You receive a copy of the curriculum so every year people from your company can help "peer coach" with teachers.
Grants to help Math/Science Nucleus to organize a Partners in Science in your local community. We can help train local staff to maintain the program once it is organized.
II. PROVIDE STAFF TO WORK WITH SCHOOLS
Once there is an agreement with school administration, you can provide your employees with a way to help local schools on a yearly basis.
"I'm enjoying the experience very much. The teacher is wonderful, full of enthusiasm and always willing to help. Kids are fantastic and I know science is a special time for them each week."
Dr. Mary Lou Zoback, U.S.Geological Survey
BENEFITS
Your interest and support can benefit local schools and educators by:
providing skills directly to children
providing inservice and materials to teachers
giving materials that are long lasting
Also
your donation is tax deductible
your support helps to provide solutions through grassroot efforts