Natives and Foreigners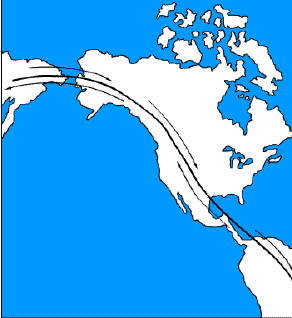 Early migration routes show how animals could have traveled between Asia and North America when a land bridge connected the two continents. It is also certain that animals moved between the two Americas. The camel migrated from Western Hemisphere to the Eastern Hemisphere. Elephant, reindeer, bison, musk-ox, bear, and sheep passed from the Eastern Hemisphere to the Western Hemisphere.
Where did the Irvington land mammals originate? Only a partial answer is possible at the present time, but paleontological "detectives" are turning up fresh clues almost daily. Amateurs have uncovered fossilized bones of thirteen natives, six "foreigners" (three from South America and three from Asia), and four mammals whose origins remain in doubt. (see chart below)
How did they get here? There are many perplexing questions about the dispersal of animals. Here are some examples:
Might certain changes in the abiotic environment cause animals to migrate changes such as drying up of swamplands, invading seas, rising mountain ranges, too much or too little rainfall, long term change in temperature range, or shifting ocean currents? (It is known that Pleistocene animals retreated from advancing ice fronts, or glacier, and followed retreating ice fronts.)
Might biotic influences cause animals to migrate for example, disappearance of essential producers, an increase in the number of first-order consumers and second-order consumers, diseases caused by microorganisms, or breaks in the food chain?
Today a water barrier (Bering Strait) prevents over lands migration from Asia to North America. Migrations took place in the past, however, when the area now submerged was dry land. Such land migration routes are usually called land bridges. This one was evidently a two-way bridge; remains of North America mammals have been found in Asia.
Land mammals of the Western Hemisphere were separated for millions of years by a water barrier between North and South America. As ocean waters began to recede, higher points of land became islands, with animals beginning their migration from one continent to another by island hopping. (Many kinds of animals, including mammals, cling to pieces of driftwood, which may then float them from one island to another.) Eventually the sea retreated (or the land rose) to from the existing land bridges, Central America. Such bridges rose, "fell", and rose again more than once, especially the one between Asia and North America.
Origin

Mammal Age

Old World or North America

Asia
South America
North America

Odocoileus
(deer)
Blancan
Dinobastis
(sabercat)
Irvingtonian
Arctodus
(bear)
Irvingtonian
Microtus
(vole)
Irvingtonian
Smilodan
(sabercat)
Irvingtonian
Mammuthus
(mammoth)
Irvingtonian
Mammut
(mastodon)
Barstovian
Paramylodon
(ground sloth)
Late Blancan
Platygonus
(peccary)
Blancan
Megalonyx
(ground sloth)
Hemphillian
Neotoma
(wood rat)
Irvingtonian
Thomomys
(pocket gopher)
Irvingtonian
Sylvilagus
(cottontail rabbit)
Irvingtonian
Canis (wolf)
Hemphillian
dirus (wolf)
Irvingtonian
irvingtonensis
(coyote)
Irvingtonian
Euceratherium
(oxlike animal)
Irvingtonian
Camelops (Camel)
Late Blancan
Tetrameryx
(antelope)
Blancan
Equus (horse)
Early Blancan
Taxidea (badger)
Early Blancan
Tanupolama (camel)
Hemphillian
Citellus
(Ground Squirrel)
Barstovian
Perognathus
(pocket mouse)
Barstovian
Peromyscus
(white-footed mouse)
Barstovian