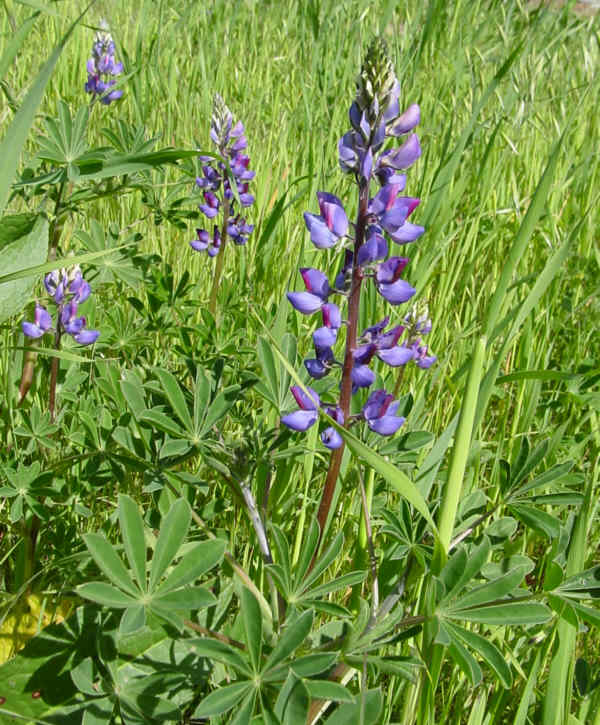 Broadleaf Lupine
Family Fabaceae (pea)
Lupinus latifolius
Lupines have palmate compound leaves with radial symmetry. The pea-shaped flowers borne on upright stems occur in bluish shades. Flowers are 10-14 mm long. Stems are not densely hairy.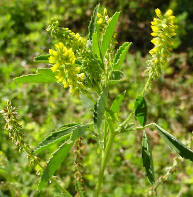 Sour clover, Indian Meliot
Family Fabaceae (pea)
Melilotus indica
Yellow flowers are numerous in each cluster with corolla 2-3 mm long. Leaflets elongate 2-2.5 cm long and fruits are not coiled.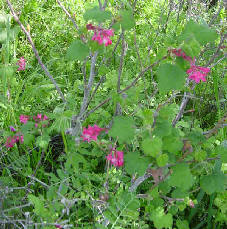 Red Flowering Currant
Family Grossulariaceae (gooseberry)
Ribes sanguineum var. glutinosum
In late winter this plant is covered with drooping clusters of pink flowers. Fruit maturation following pollination brings berries that the birds enjoy. It is found in many habitats from the North Coast and Outer North Coast Ranges to the Outer South Coast Ranges below 1000 m.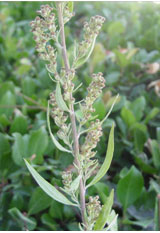 Mugwort
Family Asteraceae (sunflower)
Artemisia douglasiana
Mugwort is a meter tall perennial, with a distinctive odor that is found along the stream banks. It blooms from June to October . Leaves are long and grayish green in color. The common name of "mugwort" comes from a European species used as a condiment (seasoning). The name is derived from the old English name for plant "wort" and a container "mug." The European herb may have been used as a flavoring in a beverage consumed from a mug.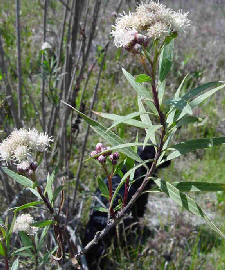 Marsh Baccharis
Family Asteraceae (sunflower)
Baccharis douglasii
A 1-2 meter perennial with green-brown stems and green leaves; grows in wet-moist places. Small white flowers are borne in tight clusters on the crown. Baccharis species are the nectary sources for most of the predatory wasps, native skippers(small butterflies) and native flies.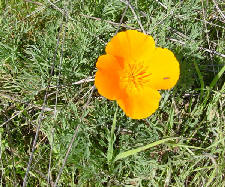 California Poppy
Family Papaveraceae (poppy)
Eschscholzia californica
An upright, compact perennial plant that is drought tolerant. The flowers are a brilliant orange and cup-shaped about 4 cm in diameter. The flowers are borne individually on long stalks. The California Poppy prefers full sun in light to sandy soils. It is the California State flower.