Grand Opening, an Environmental Success Story
by Katie York
Math/Science Nucleus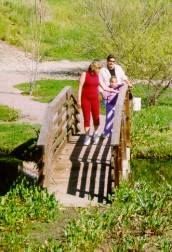 The Sun was shining brightly while the air was still but cool. The Tule Ponds reflected the beauty of this area on its grand opening, held on Saturday March 8, 2003. Families walked the trails to see native vegetation that has not been disturbed for 100 years. A sense of what Fremont looked like in the early 1900ís. Even birds and fish joined in with the celebration, as they peeked at the curious mammals that walked on their sanctuary. This marked the opening of the Tule Ponds at Tyson Lagoon Wetland Center, a new facility for Environmental Education. This center is a joint project with Alameda County Public Works and the Math/Science Nucleus.
This day consisted of speakers explaining the importance of these ponds to the county; guided tours of the facility by local high school volunteers; and a day of learning about the area and its inhabitants. This was a terrific way to bring this treasure into the public eye. Speakers such as Supervisor Scott Haggarty, Fremont Mayor Gus Morrison, Don LaBelle, Director of Alameda County Public Works, and Dr. Joyce Blueford from the Math/Science Nucleus gave speeches about the ponds and their education significance.
These ponds not only serve as a sanctuary for wildlife living in this urban jungle, but they help to clean the water that passes through and flows out to the bay at Mowry Slough. This facility will help bridge the gap of environmental awareness for the entire county.
The educational value of this site is immeasurable. Tule Ponds at Tyson Lagoon is a place where people of all ages can see a landscape that helps wildlife near and far. In an effort to keep this area pristine for the wildlife living here this area will only be open during classes, service projects, and scheduled open houses.
Special Thanks to: Alameda County Public Works Maintenance Crew under the guidance of Pat Matheson, for their tireless effort preparing the walk. Volunteers: Cassy Fries, Megan Fisher, Kerri Lai, Jonathan Loza, Kathy Huang, Victoria Huang, Nicole Law, Cory Short, Megan Collins, Angelica Maciel, Chris Boswell, Daniel Barrios, Fabiola Espinosa, Nisat Chowdhury, Jonathan Melbourne, David Cosgrove, Faisal Uraizee, Andrew Reyopoules, Carmen Wong, Usman Qasim, Amanda James, Frances Kwong, Akram Uraizee, Ellen Phamduong, Rosalind Lai, Katherine Mak, Ankit Kundarin, Kathy Chow, Nicholas Low,Elizabeth Patrician, Kristin Tran, Jaz Singh, Kushal Kadakia, Michael Tom, Joe Pan, Rhjeer Kristiauti, Dorel Baca, Michael Chen, and April Yang. Thanks to Sandy Ferreira for taking pictures at the event and finally, Richard Wetzig and Joyce Blueford for preparing the facility from start to finish.
This center has taken a few years to develop, but it was worth the wait. Special thanks need to be given to people behind the scenes including long hours by Hank Ackerman, Moses Tsang, and Manny Carnival, engineers at Alameda County Public Works. Special thanks to Richard Wetzig, who had the vision to see this facility as an asset for all the citizens of Alameda County.