Water Cycle - Atmosphere (5)
Lab
PROBLEM:
How is air polluted?

PREDICTION:

CAREFULLY DO THESE EXPERIMENTS: LISTEN TO YOUR INSTRUCTOR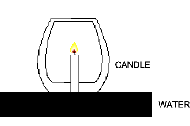 EXPERIMENT 1.
MATERIALS: beaker or glass jar, candle, matches, tray, water
Place the candle in the middle of the tray.
Pour water to cover about 1 cm of the tray.
Light the candle and cover it with the jar.
Watch the water level as the flame goes out.
Describe what happens:
DO THE FOLLOWING EXPERIMENTS OVER THE TRAY WITH WATER.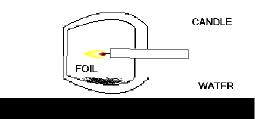 EXPERIMENT II.
MATERIALS: candle, jar, foil, tray, water
Place a candle inside a horizontally held jar with aluminum foil below the candle.
Hold the candle horizontally in the jar.
Let it burn for 1 minute.
Cool the bottle, then see if you have residue in the bottle.
What did you find?
EXPERIMENT III.
With the same jar, put a few pieces of leaves on the bottom of the jar. After your instructor approves, place a match or candle to the leaves. What happens?
CONCLUSION: Does all burning create pollution?