PROBLEM:
Is there a difference between light from a laser and a flashlight?

PREDICTION:

MATERIALS: lens, prism, cube magnifier, ulexite, quartz, mirror, laser, flashlight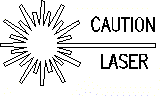 PROCEDURE: IF YOU ARE USING THE LASER, LISTEN TO YOUR TEACHER'S INSTRUCTIONS. LASERS ARE NOT TOYS AND MUST BE HANDLED WITH CARE. DO NOT STARE AT LASER LIGHT!
Shine the light of the flashlight through your items. If the room is not dark, use a black piece of paper as the backing so your images will show up. Record what you see. If you are using a laser, shoot one of the beams through the same material and draw what you see in the appropriate space below.
| | | |
| --- | --- | --- |
| ITEM | FLASHLIGHT | LASER |
| PRISM | | |
| QUARTZ | | |
| ULEXITE | | |
| CUBE MAGNIFIER | | |
| MIRROR | | |
| BICONVEX LENS | | |
| CALCITE | | |
CONCLUSION: