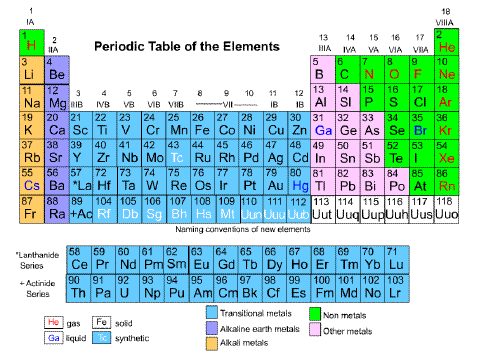 LESSON 5. Symmetry of Elements
The Periodic Table of the Elements has taken a long time to develop and continues to grow as new elements are discovered through experiments in nuclear chemistry. An element is a pure substance that cannot be decomposed into simpler substances by normal chemical means. There are 111 different elements. Ninety of these are naturally occurring; the rest have been created in laboratories. Elements 112 and 118 are still being researched and verified. There will be more elements as technology can identify them. A symbol is used to represent the full name of an element. For example, H represents hydrogen; O represents oxygen, and Al represents aluminum. Sometimes the Latin name for an element is used as the basis for its symbol, for instance K represents potassium (kalium in Latin).
Each element has its own crystal structure, which is a unique arrangement of atoms. The basic structure is built from a "unit cell" or an arrangement of atoms which repeat in three dimensional patterns. It is very similar to the symmetry of larger designs that we have seen prior to this exercise. The property of a crystal is dependant on the crystal structure and symmetry.
There are seven unique crystal systems. The simplest and most symmetric is the isometric or cubic system. You can "cut" 3 axis planes that are perpendicular to create "8" views that are equal. The six other systems, decreasing in symmetry are hexagonal, tetragonal, rhombohedral, orthorhombic, monoclinic and triclinic.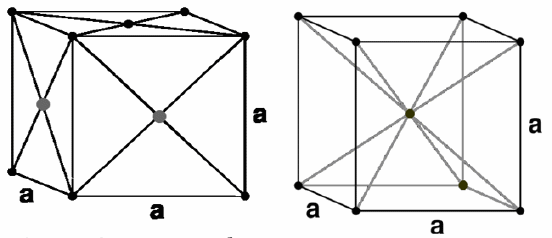 Cubic, face-centered Cubic, body-centered