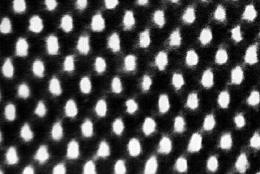 Silicon at the atomic level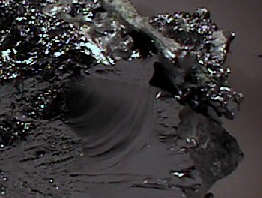 Silicon - a solid
Matter is kind of weird. The states of matter are not always rigid. Some substances can act like a liquid and some like a gas. For example a bubble is a liquid that traps air and acts like a gas. Shaving cream or whipped cream are both solid and gas (colloidal suspension).
Describing Matter
The characteristics of substances which enable us to distinguish it from other substances are known as properties. Physical properties can include: solubility, melting point, boiling point, density, volume, weight, and shape. Silicon for example can have the following properties:
Name: Silicon
Symbol: Si
Atomic Number: 14
Atomic Mass: 28.0855 amu (atomic mass units)
Melting Point: 1410.0 °C (1683.15 K, 2570.0 °F)
Boiling Point: 2355.0 °C (2628.15 K, 4271.0 °F)
Number of Protons/Electrons: 14
Number of Neutrons: 14
Classification: Metalloid
Crystal Structure: Cubic
Density at 293 K: 2.329 g/cm3
Color: steel grey
A piece of silicon is a solid with no structure. But when you look at it at the atomic level, you notice that the atoms of silicon are arranged in patterns. These patterns help to explain properties of a substance.