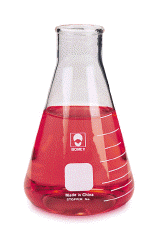 Erlenmeyer flask
Erlenmeyer flasks are used mainly for mixing chemicals and for observing reactions. It can also be used to measure and store chemicals. The narrow top helps avoid splashing when mixing chemicals. It also protects the scientist from a quick reaction because you can put a stopper on the top. Erlenmeyer flasks are not precise for measuring volume.
Mass is the quantity of matter in a body. More specifically, it is the measurement of the inertia or sluggishness that a body, in the absence of friction. Two items that have the same dimensions could have different masses, and two different sized objects could have similar mass. Mass does not change whether you are in space or on Earth. Mass is measured in kilograms and grams (metric) and slugs (English).

Weight is the force of gravitational attraction on a body as observed on the rotating Earth or similar situation. Weight on Earth and weight on the Moon of the same object, is different. The English system is measured in ounces and pounds and the metric is measured in newtons and dynes. Although the difference between mass and weight is real, on Earth mass and weight are very similar and often referred to as the same (which they are very close). Once we leave the Earth's gravitational pull it will start to change.