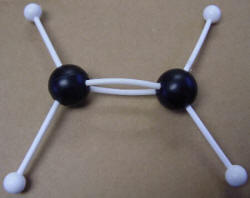 C2H2
Ethylene (C2H4) is a double bond hydrocarbon. It is the simplest alkene, containing at least one carbon to carbon double bond. Alkenes are also called olefins used widely in the petrochemical industry. Ethylene is a colorless gas used to make polyethylene which is widely used to make plastic bags and many other plastics.
Acetylene (C2H2) is the simplest hydrocarbon with a triple bond which is referred to as alkynes. Acetylene is used in lamps and hardening of steel, but more importantly it is used to produce other useful hydrocarbons.
In the following exercise see how many different types of hydrocarbons that you can make by following the worksheet.