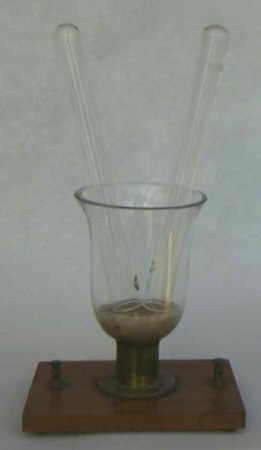 Original electrolysis set up
At first they had trouble repeating the experiments. After much experimentation with different waters and configurations of the electrodes, they finally perfected their experiments. They
discovered that the amount of hydrogen and oxygen set free by the current was proportional to the amount of current used. Not only did Nicholson and Carlisle discover how to produce hydrogen and oxygen, but they ushered in a new field of electrochemistry. Electrochemistry looks at other products can be created by using electricity to break bonds.
To split water into its components requires energy. Electrolysis, or the process that allows electrical energy to bring about a chemical change, is used to separate water into hydrogen gas and oxygen gas. Water (H2O) will separate into oxygen (O2) and hydrogen gas (H2) when electricity is connected to two electrodes and placed in water. Hydrogen will appear at the cathode and oxygen will appear at the anode.
The amount of gases produced is proportional to the chemical formula of water. The number of hydrogen molecules produced is thus twice the number of oxygen molecules. A reduction reaction takes placed at the negatively charged electrode (cathode) and produces hydrogen. An oxidation reaction occurs at the positively charged electrode (anode) and produces oxygen.