femur
The femur or thigh bone is the longest, largest, and strongest bone in the skeleton. It is inclined downward and inward from the pelvis to the knee to help the skeleton compensate for standing up straight.

The patella is a flat, triangular bone located at the junction of the thigh and lower leg bone. It protects the knee joint but also increases the ability of the leg to work.

The fibula and tibia make up the long bone of the lower leg. The fibula is the other portion of the leg and is the thinnest long bone. The tibia is located at the front and inner side of the leg and attached to the bones of the foot. The tibia is the second longest and largest bone in the skeleton.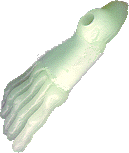 foot


patella, fibula, tibia