EARTH'S HISTORY - LAB
Fossils tell a story about an area. They provide the stories of rocks that would otherwise be in many cases, just rocks. In this lab we will highlight two areas that are on two different continents. There are many other fossil localities in the world that have similar stories. In your travels, you should always ask what does this fossil represent and what clue does it provide to understand the geologic history?
Morocco is on the African continent in the northeastern portion facing the Mediterranean and Atlantic Oceans. This area has been known for centuries as a fossil hunterís paradise. The Atlas Mountains contain some of the most beautifully preserved fauna in the world. The fossils represent two similar environments (marine) but with different time spans.
Capitola is a small beach community on the central California coast. Many swimmers and surfers look at the cliffs while they are in the water, but most never look at the secrets of the cliffs. Layers of layers of invertebrate fossils embedded in the sandstones and mudstone, tell a story of death on the high seas.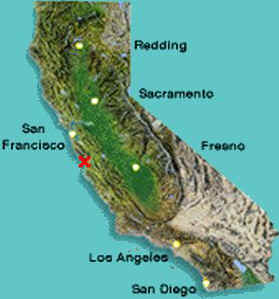 Red marks Capitola, California