COMPONENTS OF THE UNIVERSE
When the Sun is warming the Earth and you look up into the blue sky, what do you see? You might see a few clouds moving lazily across the sky. But what would happen if the light of the Sun disappeared? You would see stars and other components of the Universe. So where are the stars during the day? We just canít see them because the light from the Sun hides them! What else is in the Universe that we just can't see?
There are stars, galaxies, globular clusters, and quasars that are part of the Universe beyond our Solar System. There are different types of individual stars representing different parts of their life. For instance a planetary nebulae has a round shape with shells of gas being thrown from stars that are ending their lives. A Herbig -Haro object is a young star that is ejecting jets of material back into space. Look at other objects beyond the Solar System on the next page. Many of these objects are light years apart. A light year is the distance light travels in one year, or about 6 trillion miles.
But we also see objects that are within our Solar System like planets, comets, asteroids and meteorites.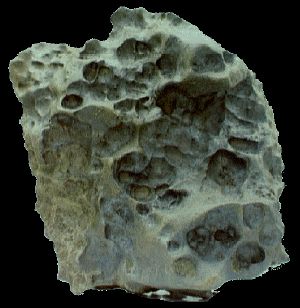 Iron meteorite taken from Anarctica.