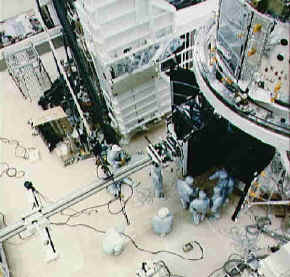 Hubble Space Telescope preassembly.
The Hubble Space Telescope
The Hubble Space Telescope is a large machine. It is about 44 feet (13.1 meters) in length, roughly the same size as a school bus. The Hubble is heavy; it weighs 12 tons (11,600 kilograms). The Hubble looks like a fat silver tube, almost like a number of cans stacked on top of each other. Forty foot long solar power panels sprout form each side of the telescope. These provide all the power the Hubble needs to operate.
Inside, the Hubble contains one large mirror which 8 feet (2.4 meters) in diameter. When the Hubble is aimed at an astronomical object, such as a galaxy, radiation from the galaxy shine into the telescope and onto the mirror. From here the radiation is analyzed by several scientific instruments.
None of these instruments take pictures like the photographic cameras we are used to. Instead, they take digital images, which are stored as files in a computer and then transmitted to Earth. No person ever really "looks through" the Hubble Space Telescope.