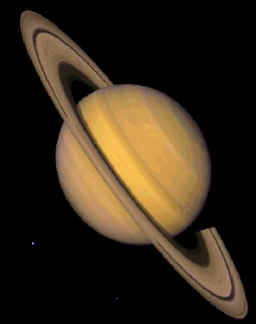 Voyager 2, in 1981 took this picture of Saturn and 2 of its moons, Rhea and Dione.
SATURN - Which planet is noted for its rings?

Saturn is the sixth planet from the Sun and is the second largest in the solar system. Saturn is visibly flattened at the poles, a result of the very fast rotation of the planet on its axis. Its day is 10 hours, 39 minutes long, which is similar to Jupiter. The giant planets are really on the go.

The atmosphere is primarily composed of hydrogen with small amounts of helium and methane. Saturnís density is less than water, which means that in the unlikely event that a large enough ocean could be found, Saturn would float in it. The wind blows at high speeds on Saturn. Near the equator, it reaches velocities of 1,100 miles an hour.