VENUS (continued)
A Venusian day is 243 Earth days and is longer than its year of 225 days. Oddly, Venus rotates from east to west. Venus rotates clockwise, when all the other planets rotate counterclockwise. To an observer on Venus, the Sun would rise in the west and set in the east.
Venus is considered contrary to all the other planets. Different, mysterious, like a woman. Astronomy is dominated by male scientists, Venus is the only planet named for a woman.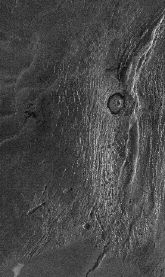 Vires-Akka Mountain range about 1 x 4 km. Notice the large impact crater.