THE NIGHT SKY - SEARCHING FOR PLANETS
There is more than knowing the order of the planets and their names. The planets of the Solar system all have their own unique characteristics. You can group the planets into terrestrial and gaseous planets. Terrestrial are those inner planets of Mercury, Venus, Earth, and Mars that are composed mainly of rock. Pluto is also a terrestrial planet, but it is part of the outer planets.
Jupiter, Saturn, Neptune, and Uranus are considered the gas giants. They are thousands of times larger than the terrestrial planets. Their surface is composed of tens of thousands of kilometers of a sea of liquid gaseous material. Letís look at how ancient people first started to see the difference between a star and a planet. Then we will compare and contrast each of the planets and their associated moons.
Look at the following pictures and see if you can tell what is wrong with each picture.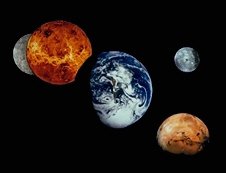 Terrestrial Planets

Gas Planets