Sand dunes are common in two modern sedimentary environments: beaches and deserts. The size and shape of the beds in the Navajo Sandstone, along with other sedimentary features found in it, indicate that the Navajo formed in a desert environment. Land fossils in the Navajo, including petrified wood and the footprints of lizards and dinosaurs, further suggest that the unit formed during the early Jurassic Period of the Mesozoic Era, about 150 million years ago.

The Navajo Sandstone does not occur just in Zion National Park. It is found over an area of 1,500,000 square miles of the southwestern United States. This indicates that when the Navajo Sandstone formed during the Jurassic Period, this part of the United States was like the modern Sahara Desert of Africa. It was a very hot, dry, and windy place. Great seas of sand dominated the landscape.

If you ever go to Zion National Park on vacation, be sure to look closely at the rocks. Try and imagine a time when this area was a desert, covered by fields of giant sand dunes.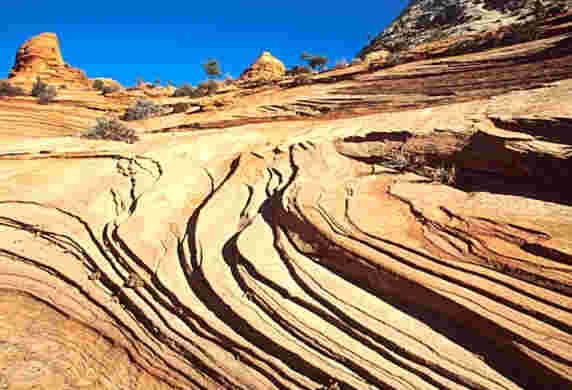 Navajo Sandstone

Sunset on the cliffs of Zion National Park