It was hard for geologists to determine that the Navajo cross bedding were once sand dunes, because cross bedding is created in many different ways. Cross-beds of many different shapes and sizes are also made in water environments, such as beaches, rivers, and the deep-sea.
Geologists have used the study of sedimentary environments to understand the Navajo Sandstone. They have discovered that the cross bedding in the Navajo almost exactly resemble the cross bedding that form in sand dunes. Sand dunes are mounds of sand moved by the wind. They commonly form in dry Earth surface environments.
From observing active sand dunes, we know how they form cross bedding. Viewed from one end, sand dunes have a flat back side and a steep front side. The wind blows up the back side of the dune. If the wind moves fast enough, it will pick up and transport sand grains up the back of the dune. When the wind goes over the top of the dune, it slows down. This causes it to drop the sand grains it was carrying. The cross-bed gets flatter at the bottom because some of the sand rolls down to the bottom of the dune and piles up.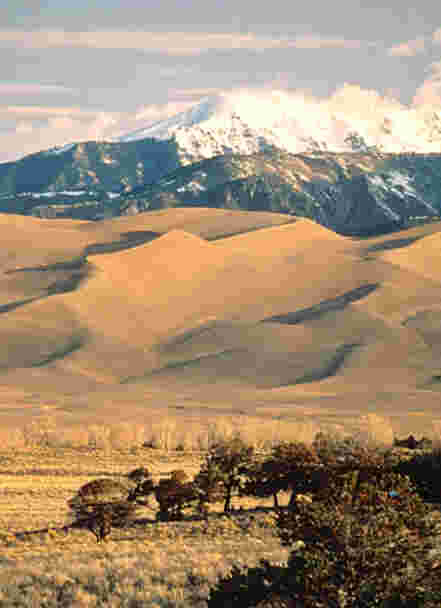 Sand dunes in Colorado


The formation of a sand dune and a cross
bedding structures