Geologists identify sedimentary rocks based on their texture (appearance) and their mineral composition. The texture of clastic sedimentary rocks can describe the grains of sand in the rock. In this lab, you will consider three textures. First, we will look at the size of the sediment particles. For example, "sand-sized" means particles from 1/16 to 2 mm in diameter. The grain size of sediments usually decreases as a stream transports grains downhill to the ocean or large lake.
The second feature is roundness, defined as the presence or absence of corners and sharp edges on the particles. Particles with many edges are "angular". Particles lacking edges are "rounded". Particles get rounder as they are transported; their corners get broken off as they bump against other particles and the streambed.
Finally, the sorting of particles is a texture that indicates how long the sediments have been in the water system. Poorly sorted sediments show a wide range of grain sizes, while well-sorted ones have similar sized grains. Like rounding, sorting increases with transportation.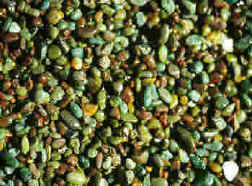 Rodeo Beach, California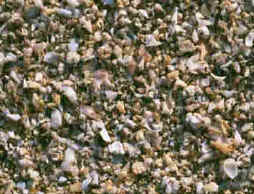 Massawa, Eritrea, Africa