CASE HISTORY - GEOLOGY OF CALIFORNIA

The Earth is basically one large "rock." The surface rocks give us clues as to how the surface moved through time. The clues in the rocks include the type of rock and fossils found. For instance, if you find deposits of basalt, that means an ancient volcano produced it. If you found trilobites, that means the area was in shallow marine water at one time.

The land we live on now records billions of years of rock "action." It is the geologistís job to use rocks and fossils to interpret the area we live near.

California is a very beautiful state, mainly because of its geologic history. Yosemite Valley was carved by glaciers; the Sierra Nevada was once a pluton deep inside the crust; and the high sea cliffs of the Pacific Coast have been pushed up by active faults.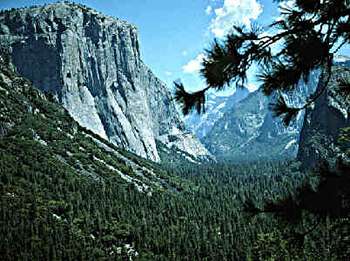 Yosemite, Sierra Nevada, California