Not all organisms become fossils. Trees and other land plants are preserved under unique conditions. However, the pollen of plants (about 10-30 microns in diameter) has a hard coating and because they are small, can be buried and preserved. Organisms like fungi and bacteria are not preserved well at all. They are delicate organisms without a hard covering.
In the Animal kingdom, the invertebrates are best preserved if they live in or around water and have a hard shell. A jellyfish would not be preserved because it has no hard parts. Marine organisms are preserved the best. One celled critters with shells are well preserved in the fossil record. Protists have common marine critters, especially radiolarians and foraminifera that are very well preserved. One celled plants, diatoms, silicoflagellates are also well preserved because they have a hard shell made of opal (silica dioxide).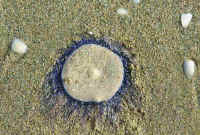 Jellyfish would not be preserved,
but the shells in this picture
could become a fossil.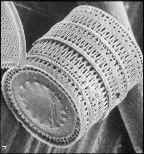 Diatom