Geologic time explains how organisms have changed through time. Most living organisms are from the Phanerozoic Eon, which is divided into three eras: the Paleozoic, Mesozoic, and Cenozoic. Each era is characterized by different types of fossils. The diagram shows a simplified look at the organisms of each era.

In the Paleozoic (meaning "old life"), the first bony fish, amphibians, and reptiles appear. Mammal-like reptiles, are first found in the fossil record toward the end of this era. Land plants appear in the early part of the Paleozoic. The first plants were simple stick-like reeds. By the end of the Paleozoic, ferns and pine-like trees and cycads were the dominant types of plants.

The Mesozoic refers to "middle" life and records abundant land organisms. Dinosaurs became abundant during the Mesozoic Era. True mammals and birds also appeared during this time period, as do the first flowering plants. In the Cenozoic Era, mammals became dominant, and grasses evolved. The earliest human ancestors first occurred about four million years ago.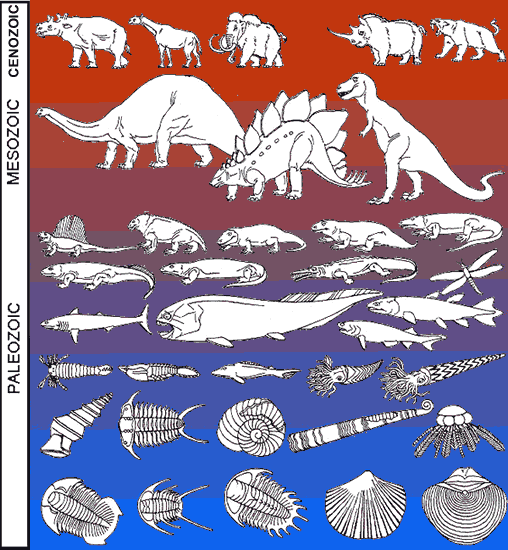 Organisms through time