Nonfoliated metamorphic rocks are more difficult to identify because of their large, undeformed minerals.

Hornfels are nonfoliated rocks composed of equal sized minerals in a random orientation. It is usually formed in low pressure, high temperature, during contact metamorphism.

Quartzite is usually nonfoliated and composed of recrystallized quartz. Sandstone and chert are the common parent rock.

Marble is composed of either calcite or dolomite, and usually derived from limestone. The purity of the marble will depend on the purity of the limestone.

Serpentinite is nonfoliated, and composed mainly of the mineral serpentine. Serpentinite also occurs as a fibrous variety, especially found near fault zones.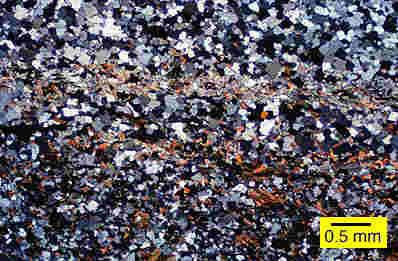 Thin section of hornfel