Just identifying the texture is not enough to name a rock. The mineral composition is important especially for phaneritic and aphanitic rocks.
Percentage of minerals is key to identifying igneous rocks. There are two basic ways to determine the percentage. One is a rough estimate using a visual inspection of a piece of rock. We will use this method.
If a specimen is phaneritic, you can further classify it using the percentages of certain key minerals. For example, look at the chart and find the phaneritic rock diorite. Read vertically upward onto the mineral composition part of the chart. Here you can see that a diorite is composed of 0-5% biotite, 5-20% hornblende, 0-15% augite, and 20-70% plagioclase. These percentages are ranges. Different diorites have different amounts of these minerals. This may seem confusing at first, but if you look at the chart you will see that the other types of igneous rocks have different minerals.


Percentage of same minerals in a sample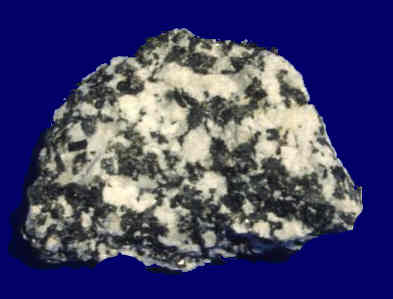 Diorite