The 1811 to 1812 New Madrid earthquakes released the most seismic energy of any known event in the continental United States. More energy was released than in any one earthquake in California. The only larger event in North America was the Great Alaska earthquake of 1964.

The New Madrid earthquakes caused great destruction in the Central United States. The earthquakes devastated large areas of the Central United States. Fault movement caused the course of the Mississippi River to change. In other areas the ground was broken and uplifted more than 30 feet. Cracks in the ground opened up that were "too wide for a horse to jump". Homes and other buildings up to hundreds of miles away, were totally destroyed. An eyewitness account of the earthquakes by Eliza Bryan, a settler who lived in the area, tells a story of destruction.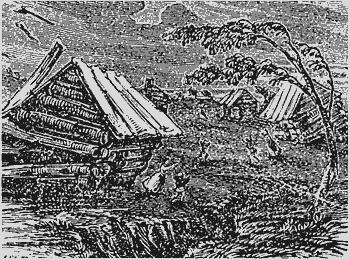 A woodcut showing damage during the 1812 New Madrid earthquake.