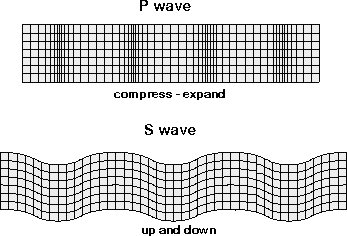 Seismic waves travel throughout the Earth. There are many different types of waves that can be distinguished. There are two major types P and S waves.

The first type are called P-waves or primary waves, because they are the fastest type of seismic wave and are the first waves that a seismogram records. The P wave can be described as a push-pull wave, because it moves by contracting and expanding material along a horizontal path. A P-wave travels through a material as a compressional force.

The second major type of seismic wave is called an S-wave. S-waves are shear waves. S-waves are slower than P-waves. The particle motion in shear waves is perpendicular to the direction of the wave.