Carbon monoxide is an odorless and colorless gas. It is considered the largest single air pollutant caused by the incomplete combustion of fuels like gasoline. Carbon monoxide reacts with the blood's hemoglobin and decreases the capacity for transporting oxygen to the body's tissue. It can also cause headaches, dizziness, nausea, and impair mental processes. It can be lethal.
Nitrogen oxides are yellow to brown gases with a pungent, irritating odor. It causes leaf damage, irritates eyes and nose, stunts plants, corrodes metals, and damages rubber. The haze that it produces in the air is sometimes referred to as smog.
Hydrocarbons are a complex group that forms reactions from inefficient combustion of carbon-based products. It may be carcinogenic (cancer producing), retard plant growth, and cause abnormal leaf and bud development.

Shenandoh Valley, Virginia, smog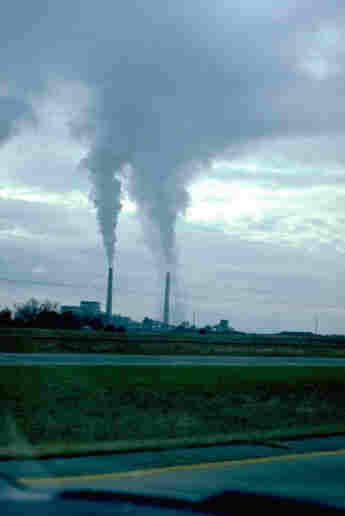 Industrial output into the atmosphere