Optics (Lab)
EXERCISE I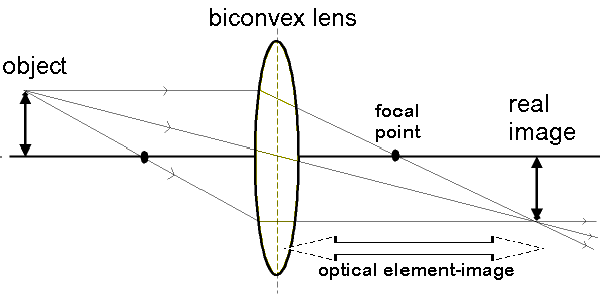 MATERIALS: biconvex lens, index card, ruler
PROCEDURE:
Set up a experiment with the items listed under materials and determine the optical element-image. You will need to be near light to make this work.
a. Compare the size of the real image with the real object.
b. Optical element-image distance is:
c. Size of object:
d. Size of real image:
EXERCISE II
PROCEDURE: Compare the two types of microscopes
Draw the reflecting microscope in the space below and label the appropriate parts
| | |
| --- | --- |
| Reflecting light microscope | Transmitting light microscope |
Define the function of the following parts.

Arm

Condenser

Eyepiece

Objective

Stage



How do you determine the magnification of an object?


EXERCISE III
Use the letter "e" slide and look at it under a reflecting light microscope and transmitting light microscope. Draw what you see below. Are they the same or difference. Remember look at them with the same power.
EXERCISE IV
Look at 5 different objects under the microscope. When each object is focused, measure the distance from the object to the objective. Record the focal distance in the table below.
| | | | |
| --- | --- | --- | --- |
| Specimen used | Type of microscope you are using | Magnification | Distance from the objective |
| | | | |
| | | | |
| | | | |
| | | | |
| | | | |