150th Anniversary of the Great Quake of 1868
Grand Opening of Earthquake Walk on the Hayward Fault
COME JOIN US!
click for reminder on Eventbrite



Where: Central Park (Lake Elizabeth), 450 acre park in the heart of Fremont (several locations, see map)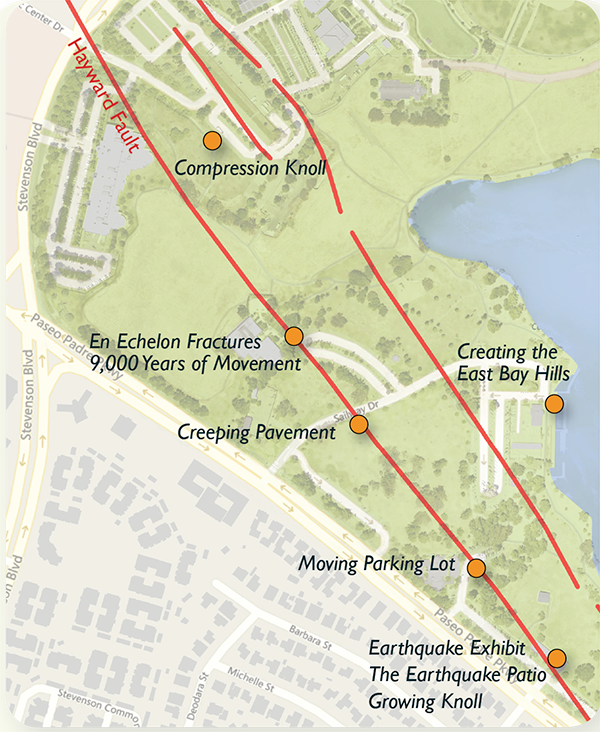 This one day event is to educate the public on the earthquake science, history, and preparedness. The emphasis will be the Hayward Fault, but there will general information on earthquakes, other faults in the San Fransico Bay Area, and plate tectonics. There will be 3 focus zones throughout Central Park. You will be able to walk to the different areas to see the new signs throughout the park.
Tours will be held throughout the event starting at 12:00 noon and will continue until 3:00 on demand. Meet at the Central Park Visitor Center (dock, looking toward Mission Peak). A volunteer scientists and docents, who can walk you through the different stations. Some tours will be geared toward families, others will be more scientific.
Kids Earthquake Zone: The Fremont Community Center, 40204 Paseo Padre Parkway
Families can learn through hands-on experiments how earthquake travel through the crust of the Earth and cause problems. Learn the basic principles of Plate Tectonics and Engineering. Children from 4-10 years will be able to build houses of blocks and see them tumble down; play earthquake games; color informative pages on temblors; see a San Francisco Bay Area fault map; pick out things they should take in case of an earthquake emergency; see a simulated quake in action; and much more.
This area will be sponsored by Math Science Nucleus.
Earthquake Science Zones: There will be two sites that people can ask scientists and educators about the science behind the Hayward Fault. We will publish which scientist will be at the different stations. Many of them are responsible for our basic understanding.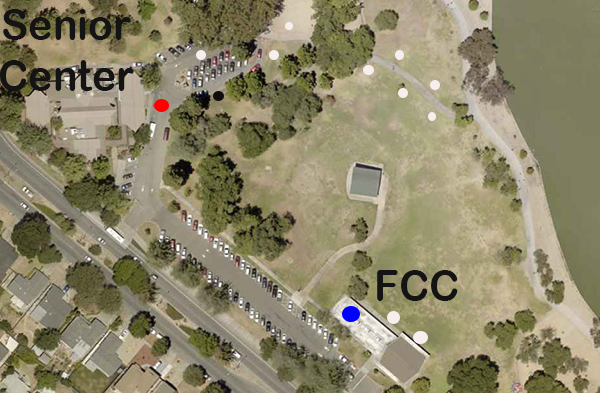 Fremont Earthquake Exhibit. See the "Faulted Floor" where 60 years of "creep" along the Hayward Fault can be seen. Teen Center Area (this area will be sponsored by U.S. Geological Survey)
Senior Center Area (Moving Parking Lot) - See how the Hayward Fault has moved large areas in one direction. You also will be able to see fault traces throughout the parking lot. Learn about the rising "compression ridge" and why it happens. This area will be sponsored by California Geological Survey.

Earthquake Preparedness Zone: At the Senior Center Parking Lot (Moving Parking Lot) to Lake Elizabeth there will be different organizations to provide information on not only how to prepare, but also about insurance and how that all works. We will publish a list of partipants closer to the event.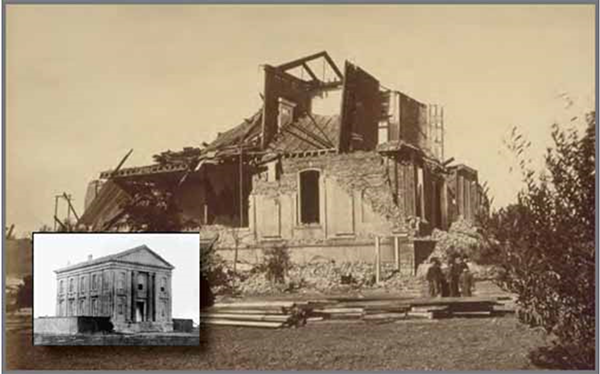 Parents and adults will be able to bring home a wealth of information on how best to prepare for earthquakes and enjoy some interesting exhibits. The U.S. Geological Survey called our own Hayward Fault the most likely to be the source of the Bay Area's next big quake with a one-in-three chance of a magnitude 6.7 rupture in the next 30 years. The admonition "Be Prepared" has never been so important.


(left - San Leandro City Hall devastated in 1868)
We need people to help (please contact Kathy Kimberlin (kimberlin@msnucleus.org)
If a scientist or want to be docent please contact Joyce Blueford (blueford@msnucleus.org)

SPONSORS
| | |
| --- | --- |
| | MATH SCIENCE NUCLEUS since 1982 has served the education and public by offering quality science and math lessons that take our children learn critical thinking skills. We manage the Children's Natural History Museum and Tule Ponds at Tyson Lagoon Wetland Center. http://msnucleus.org. |
| | CITY OF FREMONT is located in the southeast San Francisco Bay area and straddling both the East Bay and South Bay regions. It has a population of close to 1/4 million people and one of the largest city by land in San Francisco Bay area. |
| | U.S. GEOLOGICAL SURVEY is a government agency that Federal source for science about the Earth, its natural and living resources, natural hazards, and the environment. They provide the posters and map for the Faulted Floor Exhibit. http://usgs.gov |
| | CALIFORNIA GEOLOGICAL SURVEY was established in 1860, and one of the oldest geological surveys in the United States, serving as a primary source of geologic information for California's government agencies, businesses, and public. |
Math/Science Nucleus
4074 Eggers Drive, Fremont, California, U.S.A., 94536
(510) 790-6284
msn@msnucleus.org


[Hayward Fault Home]