New Developments
As scientists learn more about ancient organisms and environments, it becomes necessary to refine old ideas and find new terms to better present new knowledge. Below shows how six of the seven epochs of the Cenozoic era are subdivided into a series of ages- Mammal Ages. The first two ages - Rancholabean and Irvingtonian - are new.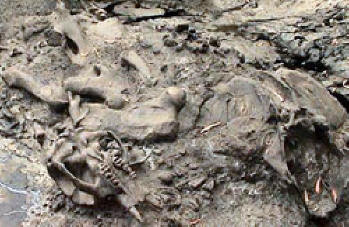 Mammals, birds, and bits of ancient trees made up a typical excavation of fossils at Rancho la Brea.
The definitions and limits of the Mammal Ages are based on fossils, not rocks. Rocks became important, however, with the development of K40/Ar40 dating. Mammal Ages designated specific times in which various organisms were at the same stage of evolutionary development. Land-mammal fossils belonging to the same age have been found in widely dispersed localities. For example, Sheaville, Oregon, and Massacre Lake, Nevada, and Barstovian Mammal Age environments. Hemophilia mammals have been found from Oregon to Central America. Although these localities are hundreds or thousands of miles apart, in the past they had similar environments which permitted similar organisms to flourish at about the same time. There are fifteen known significant Irvingtonian locations.
Thus a Mammal Age represents an assemblage of animals that lived in a specific location and all other assemblages of animals that were at the same stage of evolutionary development - no matter where they lived. Location has nothing to do with the matter; similarity of living conditions and animals does.
It might be well to provide some historic background on the Rancholabrean deposits. The term "Rancholabrean" designates the famous pits of oil and tar located in what is now Hancock Park in Los Angeles. The pits were formed by seepage, which brought the bubbling, gurgling tar to the surface. First noted by the Spanish explorer Gaspar de Portola in the diary of his expedition of 1769-70, the pits later became the property of Spanish ranchers.
Rancho la Brea (the Tar Ranch) was owned last by Captain G. Allan Hancock. In 1915 it was given to the Country of Los Angeles for scientific investigation. The first published account of fossils discovered there was written about 1905 by an amateur paleontologist, William Denton, who stated that workmen had discovered bones while removing tar from the pits. In 1906 Dr. John C. Merrian of the University of California began an eight-year project of fossil recovery. The number of kinds of fossils found by Dr. Merrian and other paleontologists make the Rancho la Brea pits the richest deposits yet discovered anywhere.
The tars probably began trapping animals about 15,000 years ago, during the late Pleistocene time. Some investigators have speculated that the pools were covered from time to time with rainwater, which attracted thirsty animals At times windblown dust probably settled on the pools, giving them the appearance of dry land. In both instances, perhaps, unwary animals were trapped in the sticky material underneath. In time, they died. Naturally the flesh of these animals decayed, but the bones were preserved by the tar as fossils.
Fossil Localities - Cenozoic Era - and the Mammal Ages Assigned Them
EPOCH
LOCALITY
DATE
(millions of
years ago)
MAMMAL AGE
Pleistocene
Los Angeles, California*
Elmore County, Idaho
Coso Mts., California
---
1.36
2.3
Rancholabrean
Irvingtonian
Late-Blancan
Pliocene
Owens Gorge, California
Calistoga, California
Hopi County, Arizona
Pinole, California
Dayville, Oregon
Malheur County, Oregon
Jackson Hole, Wyoming
Cedar Mountain, Nevada
Fish Lake Valley, Nevada
Berkeley Hills, California
3.2
3.4
4/1
5.2
6.4
8.9
9.2
10.7
11.1
11.7
Early Blancan
Early Blancan
Late Hemphillian
Hemphillian
Hemphillian
Hemphillian
Hemphillian
Clarendonian
Clarendonian
Clarendonian
Miocene
Cronese Basin, California
Sioux County, Nebraska
Massacre Lake, Nevada
Sheaville, Oregon
Tehachapi Mts., California
Agate Springs, Nebraska
Mitchell, Oregon
Scotts Bluff, Nebraska
12.3
14.7
15.6
16.7
17.1
21.3
24.9
25.6
Barstovian
Barstovian
Barstovian
Barstovian
Hemingfordian
Arikareean
Arikareean
Arikareean
Oligocene
Cant Ranch, Oregon*
Capote Mts., Texas
Wheeler County, Oregon
Presidio County;, Texas
Sheep Pass Area, Nevada
Clarno, Oregon
Presidio County, Texas
---
29.7
31.1
33.0
33.4
34.0
36.8
Whitneyan
Orellan
Orellan
Chadronian
Chadronian
Chadronian
Chadronian
Eocene
Morgan County, Utah
Big Bend National Park, Texas
Beaver Divide Area, Wyoming
Wangonbed Springs, Wyoming
Green Cove, Wyoming
Riverton, Wyoming
37.5
42.7
45.0
45.4
49.0
49.2
Duchesnean
Uintan
Uintan
Early Uintan-Late Bridgerian
Early Uintan-Late Bridgerian
Wasatchian
Paleocene
Buckman Hollow, Wyoming*
Plateau Valley, Colorado*
Saunder Creek, Alberta*
Dragon Canyon, Utah*
Golden, Colorado
---
---
---
---
64.8
Clarkforkian
Tiffanian
Torrejonian
Dragonian
Puercan
*Fossil-bearing sediments not dated at the present time by K40 / Ar40 dating method.