Measurements and Comparison
How does the paleontologist find out if a fossil is or is not a previously unknown species? He compares it with specimens that have already been identified. The comparisons are quite precise. They are based on measurements, in millimeter. Often differences in size between parts of specimens being compared are so slight and critical that fractions of millimeter must be used. This discussion should give you some idea of how such measurements are taken and recorded and how conclusions are drawn from recorded data.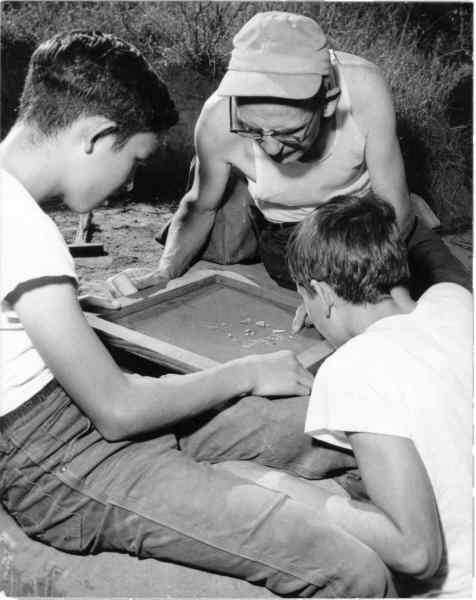 Wes Gordon looking for fossils with students from local schools.
During the time that studies were proceeding on the jaw identified by Savage, another coyote jaw with teeth was found at site T2 by a party of diggers from the university. Did these two jaws belong to the same species whatever that was? Measurements of both jaws were taken and compared. Below shows the measurements as they appear in the doctorial thesis Savage wrote.
Comparative Measurements of the Teeth in Two Coyote Jawbones

Distance, P

2

to M

2

inclusive
70.6
66.2
Anteroposterior diameter^, P

2

11.6
10.4
Transverse diameter_, P

2

5.1
4.9
Anteroposterior diameter, P

3

12.1
11.5
Transverse diameter, P

3

5.1
5.1
Anteroposterior diameter, P

4

13.8
13.1
Transverse diameter, P

4

6.6
6.4
Anteroposterior diameter, M

1

23.9
21.5
Transverse diameter, M

1

10.2
8.7
Anteroposterior diameter, M

2

10.0
9.6
Transverse diameter, M

2

7.6
7.0
^ Distance across the tooth, front to back.
_ Distance across the tooth, from side to side.

*The single specimen to which others are compared for identification. Usually the identify of this specimen is known. In this case, however, both were unknown, and it was Savage's choice as to which would be listed as the holotype. He chose the specimen discovered first. (Previous page)