Locality V3604
Paleontologists at the University of California at Berkeley recognize three separate fossil deposits in the Irvington hills: Locality V3602, and Locality V3605. Systems for designating fossil localities vary among specialists, but at Berkeley the "V" means vertebrate (in contrast to invertebrate or plant); the first two numeral indicate the year of discovery ("36" means 1936); the last two numerals show the order in which locality was discovered in relation to other discoveries that year. Thus, in 1986 Locality V3602 was found and named before Locality V3604 and Locality V3605 after Locality V3604. Localities V3601 and V3603, missing from the sequence, could be in another part of California, or anyplace else for that matter. For example, in 1936 a fossil deposit about 40 miles from Irvington was designated as Locality V3606 by University paleontologists.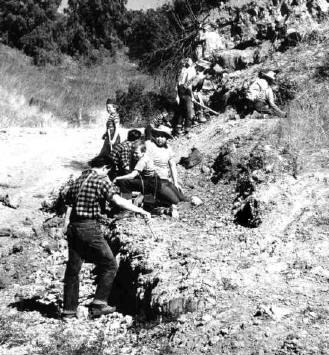 The boy paleontologists are digging (with great care) for mid-Pleistocene fossils at Locality V3604. They know that the specimens can be shattered by careless work. In their eagerness to find their first fossils, amateurs sometimes proceed too quickly.
The three Irvington deposits are about ½ mile from each other, but in this study Locality V3604 will be your chief concern. All the fossils you will use to reconstruct the Irvington pale ecosystem were discovered there. Since any ecosystem, existing or extinct, contains non-biological as well as biological components, let us proceed with a description of geologic conditions at Locality V3604. An account of determining the age of deposits is given later on. You will become acquainted with the animals and plants of Locality V3604 in another section.